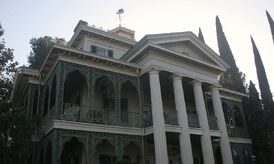 In New Orleans Square is a 19th century antebellum mansion that was once home to a prosperous sea captain and his family. The house is now known as the Haunted Mansion, and it serves as a retirement home for 999 "happy haunts" from all over the world.
The mansion was modeled after the (now-defunct) Shipley-Lydecker House in Baltimore, Maryland.
Outside of the mansion is a sundial which reads "Grow old along with me, the best is yet to be", it is also decorated with the design of a winged hourglass.
One of the porches has empty glasses and a lemonade pitcher set on a wicker table set.
There used to be a spyglass and a barometer found on one of the second floor balconies but they were removed in 2001.
There also used to be an empty birdcage hanging on the exterior of the house hanging from the southern porch.
The design of Gracey Manor, the house in the 2003 film, was primarily inspired by Disneyland's mansion.
The house in the comics, Gracey Manor, is a direct lift of the Disneyland mansion in most of the artwork.
Ad blocker interference detected!
Wikia is a free-to-use site that makes money from advertising. We have a modified experience for viewers using ad blockers

Wikia is not accessible if you've made further modifications. Remove the custom ad blocker rule(s) and the page will load as expected.