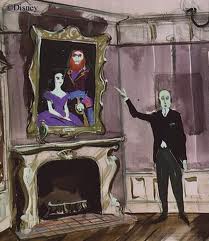 Beauregard was one of the inhabitants of the
Haunted House
 belonging to
Bartholomew Gore
. He appears to be currently haunting the 
Haunted Mansion
.
Appearances
Edit
Deleted concept
Edit
Beauregard was the name of a character from Ken Anderson's early concepts for the attraction. He was to be a living butler that would guide guests through "the old Gore Mansion".[1]
Haunted Mansion Week-enedEdit
In early 2004, Beauregard the Butler was a character featured in Disney's Haunted Mansion Weekend—an experience created by Disney and the AtmosFEAR! scream team in the UK.
Tombstone
Edit
On the hillside near the entrance to the Mansion is an epitaphless tombstone with the name Beauregard. This tombstone debuted in 2011 outside of Walt Disney World's Haunted Mansion as part of the interactive queue installation, along with a tombstone to Beauregard's master Bartholomew Gore. This seems to imply that both eventually retired to Gracey Manor like so many ghosts from all over the world
Althoug he'd be played by a live performer, it's not exactly clear whether Beauregard would have been a ghost himself. He seems fairly normal, but on the concept-art, his skin is shown to be light green, suggesting he might actually be undead.
Beauregard's character is similar (though less villainous) to that of Ramsley in the live-action movie.
Some fans believe the Ghost Host's first name to be Beauregard (which is ironic given the Hatchet Man's mishapen eyes), likely as an allusion to this character.
Notes and references
Edit
↑ Butlers and Maids (played by live Cast Members) still appear in the final attraction, but the role of tour guide was given to the Ghost Host.
Ad blocker interference detected!
Wikia is a free-to-use site that makes money from advertising. We have a modified experience for viewers using ad blockers

Wikia is not accessible if you've made further modifications. Remove the custom ad blocker rule(s) and the page will load as expected.