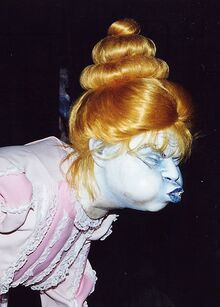 The Birthday Ghost is a ghost standing at the far left of the dining table in the Ballrooms of Disneyland, Walt Disney World, and Tokyo Disneyland. She can be seen standing on a chair and blowing out the 13 candles on a birthday cake. At Disneyland and Tokyo Disneyland she remains visible, but at Walt Disney World she disappears along the other ghosts around the table.
At Disneyland Paris, she is replaced with the ghost of a woman who is toasting with a wine glass.
The Birthday Ghost has the same face as the horn player in the Graveyard band.
Ad blocker interference detected!
Wikia is a free-to-use site that makes money from advertising. We have a modified experience for viewers using ad blockers

Wikia is not accessible if you've made further modifications. Remove the custom ad blocker rule(s) and the page will load as expected.