The Black Prince is a changing portrait at Disneyland, Walt Disney World, and Disneyland Paris. It depicts a knight on horseback that rots away into a skeleton, although some fans interpret the painting differently, saying that the prince is being struck by lightning. The painting originally began with a piece of Marc Davis concept art portraying almost exactly what the Mansion ended up getting: a knight on horseback turning into a skeleton. He is notable for being the only real, historical ghost in the Haunted Mansions at Disneyland and Disneyland Paris.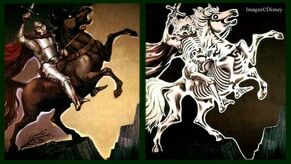 Historical Background
Edit
The painting depicts Edward of Woodstock, known as the Black Prince. He was the first Duke of Cornwall, the Prince of Wales, and the Prince of Aquitaine. Edward was born on June 15, 1330 in Oxfordshire, England. He was a strong military leader and was very famous for his victories over France in battles of Crecy and Poitiers. Edward died on June 8, 1376 from an illness in the Palace of Westminster.
Disneyland
Edit
When the Haunted Mansion at Disneyland opened in 1969, this painting was the second one down on the right side of the gallery. It flashed back and forth between knight and skeleton in sync with the lightning, but when the effect was discontinued, he slowly faded back and forth between images. In 2006, when the effect was redone again, Edward's portrait survived and still flashes between knight and skeleton.
Walt Disney World
Edit
The portrait of the Black Prince was added to the Walt Disney World Portrait Corridor in 2007. He is the third painting down the hall, and like at Disneyland, he flashes between knight and skeleton with the lightning.
Disneyland Paris
Edit
In Disneyland Paris, Edward hangs in Phantom Manor's Portrait Corridor. He slowly transforms between knight and skeleton.
Marvel Comics
Edit
In issue no. 1 of the Haunted Mansion comic, the Black Prince (called the Horseman in the comic) is the leader of the portrait monsters that work for the Captain. He chases Danny through the Mansion. Constance decapitates him before he can tell the Captain, which takes away his ability to haunt.
Other Appearances
Edit
The film adoption has a similar portrait, except that is based on Napoleon Bonaparte. The way it is painted is the same way as the Black Prince is.
Ad blocker interference detected!
Wikia is a free-to-use site that makes money from advertising. We have a modified experience for viewers using ad blockers

Wikia is not accessible if you've made further modifications. Remove the custom ad blocker rule(s) and the page will load as expected.