Standing at the gates of the graveyard behind the Mansion is a wide-eyed caretaker accompanied by his emaciated dog.
Attraction
Edit
Trembling in terror, the caretaker holds a lantern in one hand and a shovel in the other hand. His dog cowers at his feet, whimpering in fear as part of cowering with his owner. The caretaker wears a brown jacket, a green scarf, and a hat.
He and his dog are the some of the only "living" characters in the attraction.
According to former Imagineer Jason Surrell (in his book The Haunted Mansion: Imagineering a Disney Classic), he has recently been given the name Silas Crump.
In both Holiday versions of the attraction, the Caretaker and his dog are replaced with animatronics of Jack Skellington, as "Sandy Claws" and his ghost dog, Zero.
The Caretaker does not appear in Phantom Manor, but is somewhat replaced by the Phantom and a demon dog.
Other Appearances
Edit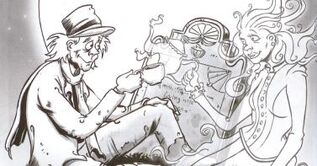 In the SLG comics, he is known as Horace Fusslebottom, working as a groundskeeper for the cemetery behind Gracey Manor. Both he and his dog have a cowardly streak, but Horace has a good reason for staying: as revealed in "The Groundskeeper's Secret" by the Singing Busts (in song, of course), Horace traverses the graveyard nightly so he can take his dinner breaks and drink tea with the ghost of his wife, who is buried there.
In a possible continuity error, he is referred to as "Dick" in "The Final Interview;" this is likely in reference to Dick O'Dell, a fan-name for the character from the castmember-created Ghost Gallery.
Ad blocker interference detected!
Wikia is a free-to-use site that makes money from advertising. We have a modified experience for viewers using ad blockers

Wikia is not accessible if you've made further modifications. Remove the custom ad blocker rule(s) and the page will load as expected.