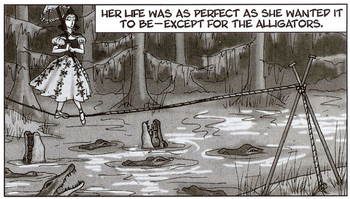 Daisy de la Cruz
is the version of the
tightrope walker
 character featured in
the first wave of comics
. 
Biography
Edit
Daisy was a member of a traveling carnival that was stranded in the bayous and set up permanent camp. Her tightrope act was very popular with male visitors and after exploiting men for their gifts, she would transform them into pet alligators. These victims held a long grudge and eagerly awaited for the rope to give way so they could finally take their revenge.
Ad blocker interference detected!
Wikia is a free-to-use site that makes money from advertising. We have a modified experience for viewers using ad blockers

Wikia is not accessible if you've made further modifications. Remove the custom ad blocker rule(s) and the page will load as expected.