The Duelists are a pair of ghosts that haunt in the Ballroom at Disneyland, Walt Disney World, and Tokyo Disneyland. Their ghosts emerge from a pair of paintings hanging on the Ballroom wall, then turn and shoot each other at the same time. When they shoot, they dissapear. The Duelists originally appeared in a Marc Davis drawing.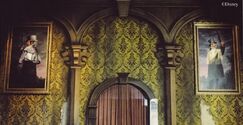 Marvel Comics
Edit
In Issue 2, the Duelists make an appearance as antagonists on the Captain's side. They shoot at Danny at an attempt to kill him, and then inform the Captain about Danny in the basement.
Other Appearances
Edit
In the Haunted Mansion movie, the Duelists make a cameo in the Graveyard, where they shoot each other's hats off.
Ad blocker interference detected!
Wikia is a free-to-use site that makes money from advertising. We have a modified experience for viewers using ad blockers

Wikia is not accessible if you've made further modifications. Remove the custom ad blocker rule(s) and the page will load as expected.