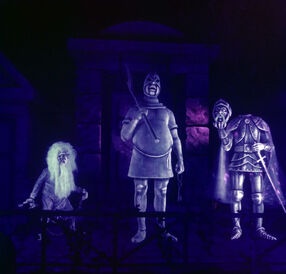 The
Executioner
is a character from the
Haunted Mansion
, appearing in the graveyard in most versions of the attraction.
On the Ride
The Executioner is only seen in the graveyard, standing on the right-hand side of the track, next to the Prisoner and the Beheaded Knight. He sings a duet with the Prisoner, having a high-pitched voice, while the Prisoner's voice is low and gravelly. In the WDW Haunted Mansion, his voice was re-dubbed during the 2007 Re-Haunting, and he now sings some of the lyrics differently, for instance "They begin to terrorize"  instead of "They pretend to terrorize". His voice is provided by Billy Days.
Other appearances
House of Mouse
The Executioner appears in the graveyard scaring Pete and having tea with the Hitchhiking Ghosts.
Gallery