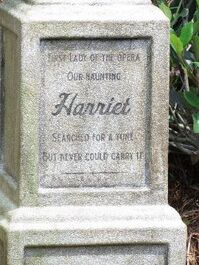 "First lady of the opera
Our haunting Harriet
Searched for a tune
But never could carry it"
—Harriet's tombstone
On the hillside near the entrance to the
Mansion
in
Liberty Square
is a
tombstone
for a woman named
Harriet
.
This tombstone debuted in 2011 as part of the interactive queue installation for Walt Disney World's Haunted Mansion attraction. It is a tribute to Imagineer Harriet Burns.
The tombstone may refer to the ghostly Opera Singer seen near the end of the attraction.
Ad blocker interference detected!
Wikia is a free-to-use site that makes money from advertising. We have a modified experience for viewers using ad blockers

Wikia is not accessible if you've made further modifications. Remove the custom ad blocker rule(s) and the page will load as expected.