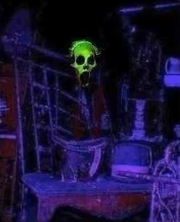 The 
Hatbox Blast-Ups
were two of the ghosts haunting the 
Haunted Mansion.
Description
Edit
The Hatbox Blast-Ups are two screaming skulls jumping from insides two hatboxes.
Biography
Edit
In the earliest days of the attraction, when it was implied that the Beating Heart Bride had killed her groom the Hatbox Ghost via beheading, it was heavily implied that the Blast-Ups were other victims of hers. Since the Hatbox Ghost disappeared and the malevolent bride was replaced by a forlorn, tragic figure, the Blast-Ups story in that version became pretty unclear. Nowadays, a common theory is that they were two of Constance's Husbands, although Constance and the Hatbox Blast-Ups were never together in the Attic at the same time.
In the ride
Edit
In the Disneyland version of the ride, from 1969 to 2006, the Hatbox Blast-Ups appeared in the Attic, when the guests entered it.
Ad blocker interference detected!
Wikia is a free-to-use site that makes money from advertising. We have a modified experience for viewers using ad blockers

Wikia is not accessible if you've made further modifications. Remove the custom ad blocker rule(s) and the page will load as expected.