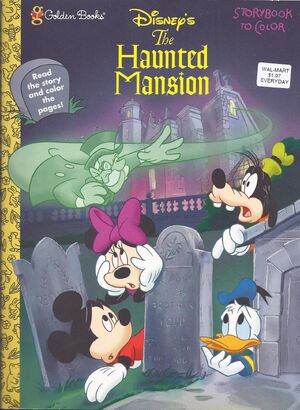 The Haunted Mansion: Haunted Happenings
(simply titled
Disney's The Haunted Mansion
on the cover) is an illustrated storybook drawn by Len Smith and Arkadia, the writer remaining unknown.
On Halloween, Mickey Mouse and the Squeaky Cleaners (a cleaning enterprise he has been leading, also including Goofy, Donald, Minnie, Daisy and Pluto) are called by Mr Gool to clean "his mansion". They get to work, blissfully unaware that this mansion is actually the Haunted Mansion. But soon, the ghostly manifestations become unmistakable and the entire group runs through the haunted maze of the corridors, rooms and graveyards, meeting many notable ghosts from the Mansion.
Ad blocker interference detected!
Wikia is a free-to-use site that makes money from advertising. We have a modified experience for viewers using ad blockers

Wikia is not accessible if you've made further modifications. Remove the custom ad blocker rule(s) and the page will load as expected.