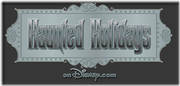 Haunted Holidays was an online event on the official Disney website created in 2009 for The Haunted Mansion's 40th anniversary during the October of that year.
Upon arriving to the site, you are welcomed by the Hatbox Ghost. After he de-materializes, you are left alone in the Attic of the Mansion. On a table, in the center of the room, is a scrapbook with pages dedicated to The Haunted Mansion, The Nightmare Before Christmas, Snow White and the Seven Dwarfs, Pirates Of The Caribbean, and The Muppets, among others. For the Haunted Mansion page, the interactive features included:
"Choose your Demise" game, in the "spirit" of the real Haunted Mansion elevator portraits the portraits featured in this game may not be as they appear.
Exclusive flip book of Haunted Mansion images and artwork.
Exclusive, behind-the-scenes videos and fan videos at Disneyland Resort.
"The Haunted Mansion: The Black Widow Bride" online game.
There were also other interactive features scattered around the attic that could be activated by a mouse click.
Haunted Holidays: Tales Of Two Cities
Edit
During the event, two videos were released simultaneously each week on Saturday, leading up to Halloween. Each video featured a haunted site from either London, England, or New Orleans, Louisiana.  Your host is once again the Hatbox Ghost. He narrates the macabre and haunted history behind each location. The haunted locations include:
London

Charles Dickens
London Underground
Lyceum Theater
Tower Of London
Westminster Abbey

New Orleans

Arnaud's Resturaunt
Haunted (Manchac) Swamp
Magnolia Mansion
Myrtles Plantation
Place d'Armes Hotel
Ad blocker interference detected!
Wikia is a free-to-use site that makes money from advertising. We have a modified experience for viewers using ad blockers

Wikia is not accessible if you've made further modifications. Remove the custom ad blocker rule(s) and the page will load as expected.