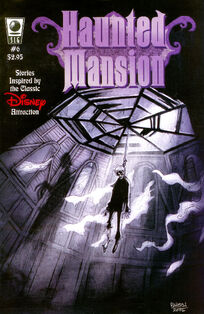 Haunted Mansion #6
is the sixth issue of
the comics
by
Slave Labor Graphics
, released in May 2007.
Doom of the Diva
Baronessa Elda, diva with an attitude to match her girth, is about to give the performance of a lifetime. Will she bring down the house?
by Alice and Andy Price
The Mystery of the Manse Part Six
In the final installment of the history of the mysteries of Gracey Manor, Master Gracey hints at the future of the haunted manse.
Written by Dan Vado
Illustrated by Mike Moss
Lettering by David Hedgecock
The Final Interview
Sarah's dead-set on becoming one of the happy haunts of Gracey Manor, but the caretaker has some wisdom to share with her.
Written by Dan Vado
Illustrated by Drew Rausch
Lettering by David Hedgecock
See also:

Ad blocker interference detected!
Wikia is a free-to-use site that makes money from advertising. We have a modified experience for viewers using ad blockers

Wikia is not accessible if you've made further modifications. Remove the custom ad blocker rule(s) and the page will load as expected.