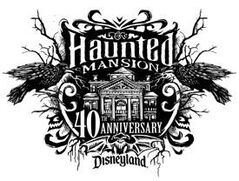 The Haunted Mansion 40th Anniversary Merchandise Event was an exclusive event that took place at the Disneyland Resort on September 9, 2009. Presented by Walt Disney Event Services and the Disney Gallery, it featured Imagineer and artist panels, a themed dinner, and a live performance. As a "merchandise event", the venue was used to promote and preview new Haunted Mansion related merchandise as well as event exclusive merchandise.
"The Plot Thickens...After five husbands and five untimely deaths, the Black Widow Bride of the Haunted Mansion will wed once more. Has she found her soul mate? Or will another groom meet his doom? Join us, Foolish Mortals, and we'll dig up the answers at our ghostly celebration that everyone's dying to attend."
—Announcement flyer
January 20, 2009

Registration for the event begins at Walt Disney Event Services website for the upper-level packages.

January 21, 2009

Registration for the event begins at Walt Disney Event Services website for the lower-level packages.

September 8, 2009

Early event registration and event store package pick up.

September 9, 2009

Day of event and event registration.
Event Itinerary
Edit
9:00 AM: Event registration and event store package pick up.
12:30 PM: Artist signing event at Grand Californian's Sequoia Ballroom.
5:00 PM: Spirited Seance and Haunting Seminar panel.
7:00 PM: Wedding "Feast or Famine" dinner and show at Disney California Adventure's Stage 17.
10:00 PM: "Spine-tingling Toast and Cake Slicing" event at Haunted Mansion attraction.
10:30 PM: Ride-thru and conclusion.[1]
Our story begins as the Ghost Host announces the wedding ceremony of Constance Hatchaway and George Hightower, as they "dwell in their corruptible, mortal state."
As the ceremony and procession gets underway, Reverend Bloodmere interrupts to inform everyone that George is nowhere to be found. Constance calms him down stating that George will turn up eventually. In the mean time, she informs the guests that the wedding will be temporarily postponed until George turns up.
Later, it is Madame Leota who proceeds down the isle. Reciting her now infamous incantation, she informs the guests that George has been found, slain by Constance. Leota and George then state that this husband will be her last, and that her murderous ways will be her undoing. From a limbo of boundless mist and decay, a carriage approaches, carrying Constance. With Leota presiding, Constance and George exchange their vows, with the Hitchhiking Ghosts as witnesses. They announce to the guests that it is time for the cake cutting ceremony at the Mansion as they sing the last verse of "Grim Grinning Ghosts".
At the Mansion, George and Constance appear upon the upper balcony. They welcome guests to join them in the cake cutting ceremony before the tour of the Mansion. After the cake is cut, the newlyweds invite the guests to become one of the 999th happy haunt, before departing.
References
Edit
Ad blocker interference detected!
Wikia is a free-to-use site that makes money from advertising. We have a modified experience for viewers using ad blockers

Wikia is not accessible if you've made further modifications. Remove the custom ad blocker rule(s) and the page will load as expected.