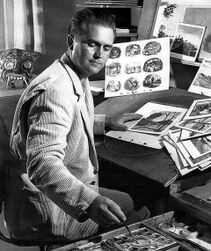 Ken "Kenneth B." Anderson (March 17, 1909 – January 13, 1993) was an animator and imagineer who came up with most of the concepts for The Haunted Mansion. His work on the attraction included sketches, paintings, models, and even some audio recordings. His involvement on the project lasted from 1957 to 1964.
Work On The Mansion
Edit
Ken was already one of the studio's top animators when Walt selected him to lead the project. Ken had already worked on many of the dark rides for Fantasyland. Ken researched many Southern antebellum and plantation manors for the look of the house. He eventually settled on the look of the Shipley-Lydecker House in Baltimore, Maryland as his inspiration. By 1958, Anderson produced his first sketch of the Mansion.
Scripts And Concepts
Edit
Ken's scripts for the project went through four drafts. The first involved the Legend of Captain Gore. The second involved the Bloodmere Manor. The third involved a ghostly wedding, not unlike the Phantom Manor. The final draft was based on the Legend of Sleepy Hollow.
By the time the 1964/1965 New York World's Fair came and went, Anderson had decidedly left the project to pursue other projects in the studio.
Influences On The Attraction
Edit
Many of Ken Anderson's concepts and vignettes were used in the final attraction. These included the design for the Disneyland Mansion, a hanging character, and an elevator to transport guests, among others. However, some of his ideas were not fully realized until the Main Street Haunted Hotel opened in Hong Kong Disneyland.
Ad blocker interference detected!
Wikia is a free-to-use site that makes money from advertising. We have a modified experience for viewers using ad blockers

Wikia is not accessible if you've made further modifications. Remove the custom ad blocker rule(s) and the page will load as expected.