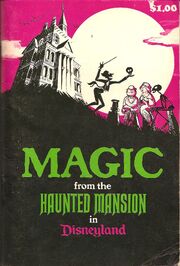 Magic From The Haunted Mansion In Disneyland is a 60-page souvenir booklet written in 1970 by magician Alwyn Stevenson. This book taught children how to do rudimentary magic tricks using concept art and characters from The Haunted Mansion. It was later re-titled as Disneyland's Mystifying Magic Book.
Card Magic

Rescue of the Queens
Your Name Please
Prediction of Suit and Value
A Found Head
Money Magic

A Coin Vanish
A Coffin Escape
Nothing Up Your Sleeve
The Crying Griffin
Paper Magic

Walk Through A Business Card
You Can't Loose
The Elastic Ghoul
The Strength of Hercules
Mental Magic

Total Prediction
The Mummy's Age
Inhuman Computer
Black Magic
Telephonic Sight
Handkerchief Magic

Knot From Nowhere
Spirit Under Wraps
The Vanishing Vampire
The Miracle Rope Splice
Never Ending Serpent
Ad blocker interference detected!
Wikia is a free-to-use site that makes money from advertising. We have a modified experience for viewers using ad blockers

Wikia is not accessible if you've made further modifications. Remove the custom ad blocker rule(s) and the page will load as expected.