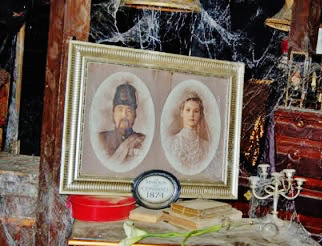 The Marquis de Doome is one of the ghosts haunting the Haunted Mansion.
Description and biography
Edit
The Marquis was a foreign diplomat from Peking, China. He crossed paths with the alluring Constance Hatchaway and married her in 1874. But the Marquis was murdered by his bride not long after their vows were said.
He now haunts his wedding portrait in the Attic of the Haunted Mansion, exposing Constance's crime to the guests as he makes his head disappear from his shoulder on the picture.
Other appearances
Edit
A wedding invitation for Constance and the Marquis was among the first artifacts sent out by the Ghost Relations Department's Ghost Post. It revealed the date of their wedding was Friday, February 13th 1874. When chilled, the invitation becomes a funeral invitation, revealing that the Marquis died the very next day - Valentine's Day.
Ad blocker interference detected!
Wikia is a free-to-use site that makes money from advertising. We have a modified experience for viewers using ad blockers

Wikia is not accessible if you've made further modifications. Remove the custom ad blocker rule(s) and the page will load as expected.