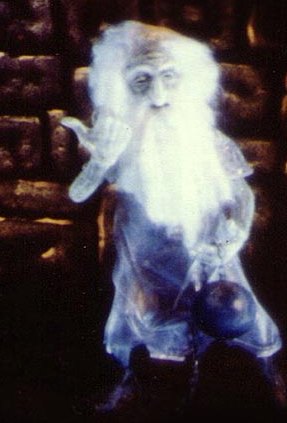 The
Prisoner
is one of the three
Hitchhiking Ghosts
. He is the only of the hitchhikers to make an appearance twice in the ride (as an animatronic figure). Fans often refer to him as "
Gus
," an unofficial name that has since been adopted in various Disney projects.
The Prisoner is a short, dwarf-like figure. He has a long beard and a ball and chain shackled around his ankle. In the graveyard, he is seen with a metal file, which he possibly used to saw his prison bars away in his escape.
On the Ride
Edit
The Prisoner first appears in the Graveyard , standing next to the Executioner and the Beheaded Knight . He sings with a deep, gravelly voice provided by Candy Candido, in contrast to the Executioner's high pitched one. For the 2007 "Re-Haunting" of WDW's Mansion , he received new vocals and now sings some lyrics slightly differently, i.e., "When the crypt doors creak and the tombstones quake, Spooks come out for a screaming wake", as opposed to the normal "Spooks come out for a swinging wake".
Ad blocker interference detected!
Wikia is a free-to-use site that makes money from advertising. We have a modified experience for viewers using ad blockers

Wikia is not accessible if you've made further modifications. Remove the custom ad blocker rule(s) and the page will load as expected.