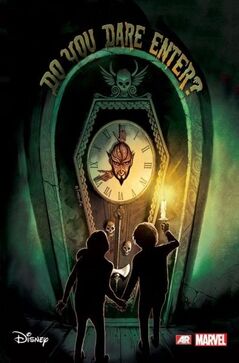 Seekers Of The Weird is a comic book series, the first issue of which was released in January of 2014. It is based on Rolly Crump and Yale Gracey's unused concepts and ideas from the unbuilt Museum Of The Weird.
The story is about two teenagers, Maxwell and Melody Keep. With the help of their strange uncle Roland, they have to brave the dangers of the Museum of the Weird, which is a repository for the most dangerous mystical artifacts on earth. The kids have seven days to find one artifact in particular. If they don't find it in time, there's going to be dire consequences. But if they do find it in time... the consequences may be even worse!
Maxwell and Melody get into this unlikely adventure after working behind the counter at their family's occult bookstore in New Orleans' French Quarter. Maxwell is brainy and kind of morbid, leading him to enjoy this after-school job.
However, Melody hates it. She's on the lacrosse team and doesn't want anything to do with the strange stuff her family's into.
Melody and Maxwell are forced to delve even deeper into "strange stuff" when their parents are kidnapped by an evil mystical force. If they don't find a certain arcane artifact in seven days, they'll never see their parents again.
Fortunately the kids' black sheep uncle Roland shows up, who knows all about magic. Roland takes the kids to the Museum of the Weird and promises that he'll get the kids' parents back for them... but it doesn't exactly go as planned!
Ad blocker interference detected!
Wikia is a free-to-use site that makes money from advertising. We have a modified experience for viewers using ad blockers

Wikia is not accessible if you've made further modifications. Remove the custom ad blocker rule(s) and the page will load as expected.