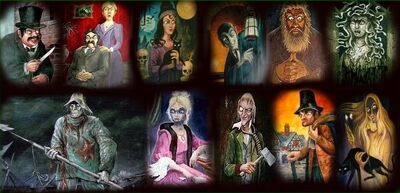 The "Sinister Eleven" are a group of haunted portraits located at the Haunted Mansion.
In the rides
Edit
The Magic Kingdom's Haunted Mansion once had this effect prior to the 2007 refurbishment. Now it has a Portrait Corridor similar to Disneyland's. The Arsonist, Jack the Ripper, The Mariner, Hatchet Man, The Witch of Walpurgis, Dracula, and The Old Man are now hanging in the Load Area, while The Couple and December are hanging on the staircase near the floating candelabra, and The Opera Glasses Lady hangs on the wall between the Ballroom and the Attic. Medusa is now a changing portrait.
In Tokyo Disneyland, the effect remained identical to what it used to be in WDW before 2007: guests travel down the Portrait Hall in a Doombuggy, just after passing under the candelabra landing. There, the subjects of the portraits stare back, their eyes dimly glowing and following guests as they proceed down the corridor. The portraits consist of:
Right side:
The Opera Glasses Lady
The Couple
Left side:
Above the Library entrance:
The Mariner
Unused portraits
Edit
Ad blocker interference detected!
Wikia is a free-to-use site that makes money from advertising. We have a modified experience for viewers using ad blockers

Wikia is not accessible if you've made further modifications. Remove the custom ad blocker rule(s) and the page will load as expected.