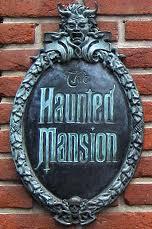 The Haunted Mansion is a franchise owned by the Walt Disney Company.  The franchise originated with the eponymous dark ride that opened in Disneyland's New Orleans Square in 1969, one of the last Disney theme park attractions overseen by Walt Disney himself.
Items contained in the franchise
Edit
Ride Overlays
Edit
Cinematography
Edit
The Haunted Mansion, a 2003 live-action film based on both American versions of the rdie, starring Eddie Murphy as a hapless mortal real estate agent who tries to buy the Mansion, not knowing it is haunted.
Haunted Holidays: A short webseries starring a CGI Hatbox Ghost against live-action backgrounds, released in 2009.
The Princess and the Frog: a 2009 Disney animated feature film set in New Orleans, whose climax takes place in the Graveyard of the Haunted Mansion.
Unproduced
Edit
Video Games
Edit
The Ghost Gallery, a semi-official backstory for the Mansion written by Cast Members but not technically approved by Disney; mostly regarded as non-canon, but influenced the 2003 film and the SLG comics.
Ad blocker interference detected!
Wikia is a free-to-use site that makes money from advertising. We have a modified experience for viewers using ad blockers

Wikia is not accessible if you've made further modifications. Remove the custom ad blocker rule(s) and the page will load as expected.