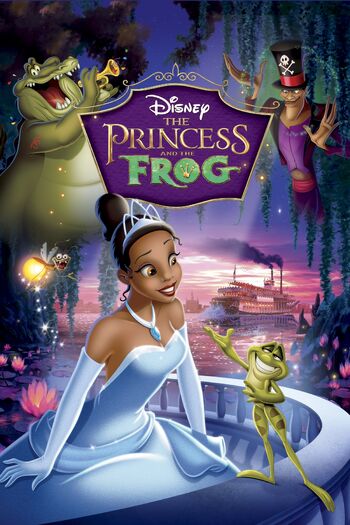 The Princess and the Frog
is a 2009 Disney animated feature set in 
New Orleans
, which has been implied to take place in the same universe as the Haunted Mansion.
The story, set in the 1920's in New Orleans, follows Tiana, a bar server who dreams of owning her own big restaurant near the river, and ends up turned into a frog after accidentally meddling in the evil plot of voodoo sorcerer Doctor Facilier. Along her journey to turn back into a human, she learns a couple of mortal lessons, meets the love of her life and foils the nefarious schemes of Facilier…
Relationship with the Haunted Mansion
Edit
The climax of the film takes place in a graveyard of New Orleans where Doctor Facilier has cornered the protagonists. One of the tombstones seen is actually that of Madame Leota. It is thus very likely that the movie actually takes place in the same universe as the Haunted Mansion, and that the graveyard the climax took place in was the familiar Haunted Mansion graveyard. 
Ad blocker interference detected!
Wikia is a free-to-use site that makes money from advertising. We have a modified experience for viewers using ad blockers

Wikia is not accessible if you've made further modifications. Remove the custom ad blocker rule(s) and the page will load as expected.