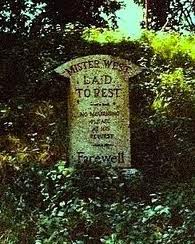 "Mister West,
Laid to rest
No mourning please,
At his request.
Farewell."
―Mr. West's tombstone
Mister West is one of the ghosts haunting the Tokyo Disneyland Haunted Mansion.
Appearance
Edit
In the family plot of the Haunted Mansion at Tokyo Disneyland is a tombstone for Mr. West. Chained to the tombstone is a statue of his deceased dog, Digger.
The tombstone is a tribute to Imagineer Mike West.
In Tokyo Disneyland, there is no tombstone to Master Gracey, Mister West's seeming replacing it (although it is Chauncey Xavier's tomb that is always kept looking like a fresh grave). Consequently, and following the theory that the Disneyland and WDW Mansions belonged to Master Gracey, the theory has arisen that Mister West was, in life, the master of the Tokyo Disneyland manor.
Ad blocker interference detected!
Wikia is a free-to-use site that makes money from advertising. We have a modified experience for viewers using ad blockers

Wikia is not accessible if you've made further modifications. Remove the custom ad blocker rule(s) and the page will load as expected.